Monday, August 1, 2011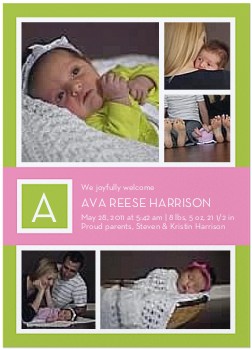 Spring Field Birth Announcement
To see Shutterfly's birth announcement designs, click here.

Posted by

Kristin
at 8:01 PM
No comments:

Wednesday, June 23, 2010
We took a guided tour of the Colosseum, or at least part of one.
About halfway into the tour we decided this was way more detail than we ever needed or wanted to know about the Colosseum so we ditched the tour and took off to see the rest of it on our own.
It's easy to see where the reconstruction is taking place.
This is looking down at the bottom. Since the entire floor hasn't been reconstructed, the tunnels that run underneath for the animals or gladiator are exposed.
The size and structure of the Colosseum is pretty impressive in person. Even the statues are amazing.
A video tour inside the Colosseum:
Our day in Rome was a successful one and we made it to all of the major sights that we had wanted to see and arrived back at the boat with an hour and a half to spare this time! The train ride back gave us a bit of time to read and relax.
I'm glad that we decided to explore the city on our own. A tour offered by the cruise line that went to the exact same locations would have cost $800 for the two of us. Our trip, transportation, entrance tickets, and all cost $100.
Posted by

Kristin
at 7:50 PM
No comments: